Thank you Mrs. Bud for 22 great years! Thank you for being a good human, a great teacher and a fantastic leader! We are grateful for all the love and kindness you gave the Holy Cross Community! May God bless you on your next endeavor!
Click here to see Mrs. Bud's Retirement Video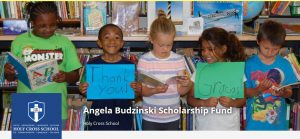 In recognition of twenty-two years of exemplary leadership to Holy Cross School, to honor her lasting legacy to our students, staff, and their families, we are pleased to announce the establishment of the Angela Budzinski Scholarship Fund to provide tuition assistance to Holy Cross School students.