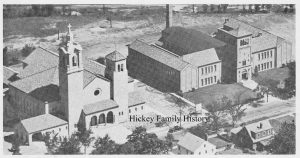 Holy Cross School is based on an educational philosophy in which faith, culture and life are brought into harmony.  The school provides excellence in education along with a foundation in Christian values.  The school is a shining tribute to God serving the families of South Bend since 1929. In partnership with our parents, we are committed to the education of the whole child, academically, spiritually, socially, emotionally, artistically, and physically.
Inspired by the ministry of Jesus, Holy Cross provides an education that stresses the importance of compassion, personal responsibility, acceptance of diversity, and respect for ourselves and others.
Mission

HOLY CROSS CATHOLIC SCHOOL exists for one purpose:  To give glory to God through the total education of each Holy Cross student!
Vision
Holy Cross Catholic School offers a quality education in the Roman Catholic tradition to students of all faiths through the development of hearts and minds. We value the diversity of our students and promote a love of faith, knowledge, language and culture.
Educational Pillars
Faith
The Catholic culture at Holy Cross prepares students to live their faith in word and deed and to be both scholars and saints.
Knowledge
We hold high standards of academic excellence and support our students on a path to growth because we know our students have a remarkable capacity to learn.
Language
At Holy Cross bilingualism is seen as an asset that enables students to build bridges to knowledge, relationships, and opportunities. Thus, students are invited to learn in English and in Spanish in our Spanish Immersion and Traditional English programs.
Culture
The diversity of cultures at Holy Cross is intentionally celebrated and sustained in our classrooms and school.