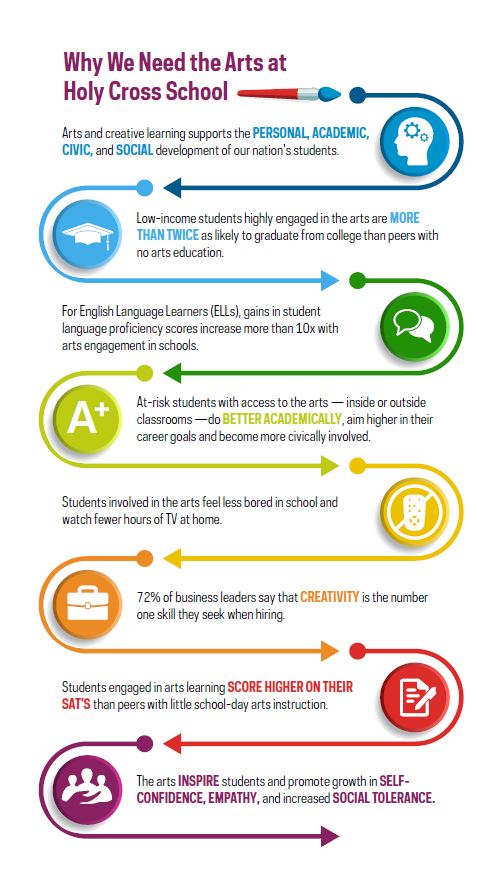 Junior High Plays
The plays are led by veteran teachers, Mrs. Melissa Manier and Mrs. Becky  Ridenour. Students in grades 6th through 8th dive into the world of performance in what has become a captivating show every Spring.  The students and directors work very hard, have a fantastic time and ALWAYS put on a fantastic play that everyone enjoys. Play auditions start the first part of December and play practice goes all the way up to the major event in March.  Each year Holy Cross School gets the opportunity to showcase their plays at Washington Hall on the Notre Dame campus.  After all their rehearsals the students get to perform for the entire school, family and friends.
Bandlink
BandLink is an outreach program of the Notre Dame Band that offers music and band instructions. BandLink is open to grades 4th-8th at Holy Cross, Christ the King and Corpus Christi.  Students in the Michiana Christian Homeschool Band are also eligible to participate. For more information, please email mmerten@nd.edu or bandlink@nd.edu.Visit the ND BandLink website
Choir
The Choir is under the direction of Mrs. Julie Van Meter. The students minister to the school community at the weekly school Mass. Our students also take part in singing at the Pueri Cantores Mass at Notre Dame in the Spring. There is also opportunity to sing at 8th grade Graduation, 8th grade Confirmation, and all holiday masses.