Welcome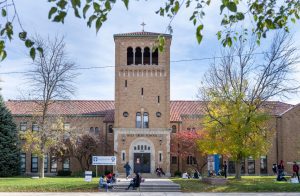 Holy Cross School, established in 1929, is one of the oldest Catholic elementary schools in Indiana.  Founded by the Congregation of Holy Cross, the school was built even before the church building was established.  The Holy Cross priests and brothers recognized the importance of a school in their new parish.  Holy Cross School was to be a place where faith could be taught, nurtured, and practiced freely.  For over 85 years Holy Cross School has endured and prospered, standing as a testimony to the faith, hope, and courage of 'west side' South Bend immigrants.
News and Announcements
In the news

-

Read about Mrs. Hudak, our school counselor, who really stepped up to help those in need during the uncertainty of… ... Read More
Virtual Learners Attendance
If you are a remote learner or currently under quarantine, please fill out the attendance link HERE.
Weekly Newsletter