If you are pregnant or a parenting mom in need of support, resources, or baby items let us know. We can help.
We are a group of moms here to help you on your journey.
We can give you emergency diapers and supplies.
We can give you emergency food from St. Vincent DePaul.
We can link you with local resources.
We can listen and support you as you figure out your most pressing needs.
Baby Pantry Items Include:
Diapers of all sizes
Wipes
Diaper cream/ointment
Bathing supplies
Formula
Pacifiers
Baby blankets
Newborn baby clothes
Children's books
Local Resources for Moms
https://www.walkingwithmomsfwsb.com/resources/
Local Resources for Women
https://www.hermichiana.org/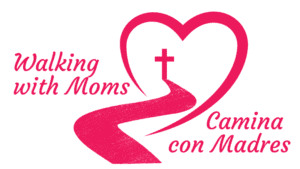 MISSION
The Holy Cross Catholic Parish Walking with Moms group is here to assist any pregnant
or parenting mom. We offer loving support, baby pantry items, and help to connect with
local resources to ensure every mom can care for the children with which she has been
blessed. We are part of the Walking with Moms in Need network of Catholic parish
ministries.
SUPPORT US
Do you feel called to join our ministry? We are always in need of prayer support and
financial assistance. Please consider donating needed items for mothers and children,
sending us a gift card, or writing a check made out to Holy Cross Parish with "Walking
with Moms" on the memo line.
If you'd like to join our mailing list to receive updates or volunteer to help, please email
walkingwithmoms@hcpsb.org