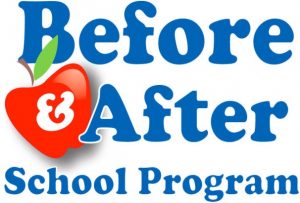 Our program offers students a balance of learning and fun with toys, games, arts and crafts and homework help. Students meet in the gym after school and follow a schedule that allows for snacks and activities depending on the age of the student. Students from PK- 8th grade can participate in both Before and After Care Programs.
Before School Care Program
Any child who arrives at school between 7:00 am and 7:30 am will attend the Before School Care Program.  Students who arrive during this time will need to enter the school through the main entrance off of the back parking lot.
Daily Charge: Before School Care:  Any child who arrives at school between 7:00 am and 7:30 am will be accessed $1.00 per day for this service.
After School Care Program
From dismissal to 5:50 pm
Children may be picked up anytime between those hours, the daily fee remains the same.
Daily Charge: After School Care:
First Child:                                                                 $8.00 per day
Each Additional Child/Children:                          $7.00 per day
Late Pick Up Fee:                                                      $15.00 per family for pick up after 5:50 pm
There is a $40 per child and $75 per family of 2+ children registration fee.
To register online, please visit Google Form After Care Program to fill out an online registration form. You may also fill out the form attached to this sheet and turn it in to the school office. In order to register for this program, you will need to set up a pre-payment account on FACTS. You will make an initial deposit through your FACTS account and another payment to pre-pay for the days you will use the program. We recommend you maintain a pre-payment amount of 2 weeks of care on your FACTS account.
You may use the same log in and password used for your current FACTS account. If you do not have a FACTS account, please create one at the link below.FACTS
Students may attend the program one (1) to five (5) days a week.  You may choose which days you would like your child(ren) to attend the program.  Registrations will be accepted throughout the school year as long as there are openings in the program. If you anticipate utilizing the program on the first week of school, please pre-register by August 1st. Register here.