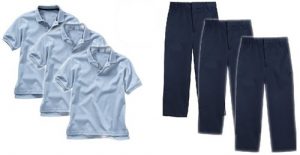 Holy Cross students wear uniforms to promote intellectual and spiritual growth in a safe non-competitive environment.  Our Pastor, Principal and School Board believe uniforms provide a positive academic atmosphere during the school day.  Uniforms consist of navy blue bottoms and a white or light blue shirt.  We appreciate parents/guardians support of the uniform dress code, which is enforced by the principal, faculty and staff.
---
Spirit Wear is now available to order!
Please follow these instructions when placing your orders:
1. Select the item
2. Once you choose the item, please click
Add decorated item to cart
you will then be able to select the color and size you need.
3. Click
Add to Cart
and
Submit Shopping Cart
.
Once you hit
Send
you will receive an email.  You will receive another email with a secure payment portal. (Please note, it might take 2-3 days before you receive this email.)
This link will only be available until Monday, August  19th, any orders placed after the 19th will not be processed until the next time we make the link available.
All sales are final.
Please remember that per our
Uniform Dress Code
, only the following items are acceptable to wear during the school day:
Port Authority Value Fleece Jacket F217 – Black and Iron Grey
Port Authority Youth Value Fleece Jacket Y217 – Black and Iron Grey
Port & Company Youth Core Blend Jersey Knit Polo KP55Y- Deep Navy, Light Blue, White
The Adult Port & Company Core Blend Jersey Knit Polo. KP55 in WHITE ONLY.
Port & Company Ladies Core Blend Pique Polo. LKP155 in WHITE ONLY
All other items and color variations are considered spirit wear. Orders can now be placed online at the following link.
https://www.companycasuals.com/HCCRUSADERS/start.jsp
Orders will be shipped to Holy Cross School and will be sent with the student on the first week of school.  If you have any questions, please don't hesitate to email dcurry@holycrosscrusaders.org
---
Uniform Shop

Holy Cross School maintains a uniform shop exchange program. The shop takes in slightly used and new clothing. Items can be either exchanged for items or can be purchased for a small cost. Items in the shop include: pants, shirts, shorts, skorts, skirts, sweaters, jumpers, gym shirts, spirit wear, fleeces, and shoes. The shop also takes donations for first communion dresses, suits, shoes, and winter jackets,
During the school year the shop is open every 3rd Wednesday of the month. During the summer the shop opens for two weekends (Saturday and Sunday from 10 am to 2 pm in July and August) for families to get ready for school.
The shop is always looking for volunteers to help wash, tag, sort, organize the uniforms and to help assist when the shop is open. The shop can be found across from the gym.