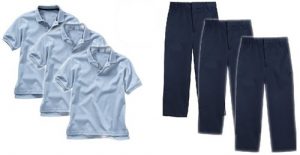 Holy Cross students wear uniforms to promote intellectual and spiritual growth in a safe non-competitive environment.  Our Pastor, Principal and School Board believe uniforms provide a positive academic atmosphere during the school day.  Uniforms consist of navy blue bottoms and a white or light blue shirt.  We appreciate parents/guardians support of the uniform dress code, which is enforced by the principal, faculty and staff.
Please Click Here for the official dress code
---
Lands' End School Spirit Wear
Preferred School Number: 900196577
Order Online
– Visit landsend.com/myschool
– Create an account or sign into your existing account
– Use the True Fit® tool to find your child's right size
– Place your order
---
Uniform Shop

Holy Cross School maintains a uniform shop exchange program. The shop takes in slightly used and new clothing. Items can be either exchanged for items or can be purchased for a small cost. Items in the shop include: pants, shirts, shorts, skorts, skirts, sweaters, jumpers, gym shirts, spirit wear, fleeces, and shoes. The shop also takes donations for first communion dresses, suits, shoes, and winter jackets,
During the school year the shop is open every 3rd Wednesday of the month.
The shop is always looking for volunteers to help wash, tag, sort, organize the uniforms and to help assist when the shop is open. The shop can be found across from the gym.