Curriculum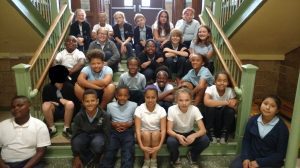 Religion- The fifth grade students study the topics of Revelation, the Trinity, Jesus Christ, The Church, Morality, the Sacraments, and the Kingdom of God throughout the year. All students attend a weekly All School Mass at 8:15 am on Thursdays, as well as Holy Days. Parents are invited to attend these student led Masses and enjoy our Junior High Choir. Students also participate in Adoration and Reconciliation services throughout the year.
Language Arts- The fifth grade students will read a variety of classic and contemporary literature and continue to expand their interest in nonfiction. They will work on literary criticism by evaluating what they read and locating evidence to support what they say.  Much of this work will be done in small groups called literacy circles.  Students will also be reading independent, level appropriate choices and responding to the reading in their read and respond notebook.  They will write multiple-paragraph compositions for different purposes and a specific audience, as well as journal daily.  They will complete Daily Oral Language activities, or DOL sheets, each morning often followed by an English mini lesson focusing on topics such as sentence structure, appropriate tense usage for verbs, punctuation, and capitalization.  Spelling lists will be given for spelling practice, along with a weekly spelling packet.
Math- The fifth grade math program focuses on the topics of Number Sense, Computation, Algebraic Thinking, Geometry, Measurement, and Data Analysis and Statistics.  In addition to the basics such as multiplication, division, fractions, decimals, ratio, percents, and probability, students use story problems and other multi-step approaches for higher level thinking.
Science- The fifth grade students will be working with the Carolina kits-hand on units, our Science book, and S.T.E.M. activities.  S.T.E.M stands for Science Technology Engineering and Mathematics.  By using these resources, we will be working our way through the Indiana State Standards for fifth grade.  
Social Studies- The fifth grade students continue with American History. Starting with the Native Americans, fifth graders journey through Colonial America. Then, by focusing on the New Nation, the students will learn about the Constitution, Civil War, Settling the West and move to Present Day.