Holy Cross School has two resource teachers who actively cooperate with our team of teachers and help support our school manage the additional learning needs of students. They help support our classroom teachers to manage the diversity of students' learning needs and work directly with a student or a small of group of students.
K-4 -Resource Teacher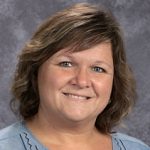 Mrs. Becky Ridenour has been a part of Holy Cross since 2006. Mrs. Ridenour has experience working with children from all ages and backgrounds. She has worked as an aide in the classroom, subbed for many years, and also worked for South Bend Schools as an ELL instructional resource specialist. This year she teaches 1st grade reading and assists students in grades K-4th.  You can also catch her tech directing our Junior High Play.
Mrs. Ridenour loves to garden, do crafts, read, and watch her daughter play softball and her son perform on stage or run tech for Clay High School. Her husband, Kevin is a former Crusader as well as her children, AJ 2014′, Sophie 2016′ and Molly. In May 2007, Molly was a fourth grade student and she tragically died in a house fire. Molly loved Holy Cross School and her parish. She also loved to help plant flowers and garden. Outside our school is giant purple butterfly decorating, Molly's Garden. The butterfly has been a symbol showing her friends and family that she is still with them. At the heart of Molly's garden is a beautiful statue of the Blessed Mother, who knows all too well the pain of losing a child. It is through Her and the Holy Cross community, that we remember sweet Molly.
5-8 Resource Teacher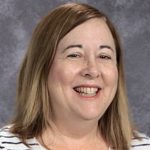 Mrs. Kathy Kowalski has been a part of Holy Cross School for the past 34 years. Mrs. Kowalski is a graduate from Nazareth College near Kalamazoo, Michigan. She has taught 2nd and 3rd grade at Holy Cross and has even taught the second generation of many of her previous students. She enjoys working with a diversity of students and is always happy to step in and help in any of the 5th through 8th classrooms. She is also the playwright of our very own, Our Lady of Guadalupe Play.