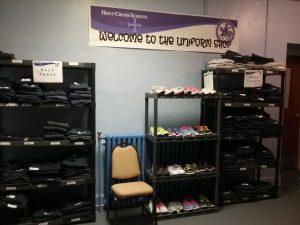 Holy Cross School maintains a uniform shop exchange program. The shop takes in slightly used and new clothing. Items can be either exchanged for items or can be purchased for a small cost. Items in the shop include: pants, shirts, shorts, skorts, skirts, sweaters, jumpers, gym shirts, spirit wear, fleeces, and shoes. The shop also takes donations for first communion dresses, suits, shoes, and winter jackets,
During the school year the shop is open every 3rd Wednesday of the month from 2:45 pm – 3:30 pm for exchanging and purchasing uniform items. During the summer the shop opens for two weekends (Saturday and Sunday from 10 am to 2 pm in July and August) for families to get ready for school.
The shop is always looking for volunteers to help wash, tag, sort, organize the uniforms and to help assist when the shop is open. The shop can be found across from the gym.
For additional information you can contact Beverly Kingston @ 309-8011.