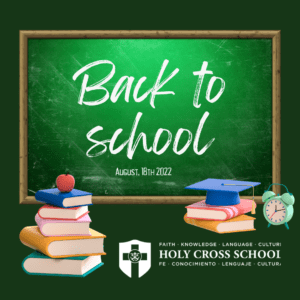 School begins Thursday, August 18th, our school hours will be from 8:00 a.m. – 3:00/3:10 p.m. depending on your carpool assignment. Carpool assignments along with your scheduled dismissal time will be sent via email the first week of August. Please make sure we have your correct or preferred email address. We will send a weekly newsletter every Wednesday and will also send communication through our Remind app.
Before school care will be from 7:00 – 7:30 a.m. for $1/day per student.
After school care will be through the YMCA Y-Club from dismissal until 5:45 p.m.
Students will have an opportunity to meet their teacher and drop off school supplies on Wednesday, August 17th. More details to follow.
Please save the date for our Back to School Mass and Fiesta on Saturday, August 20th at 4:00 p.m.
Información en español
La escuela comienza el jueves 18 de agosto, nuestro horario escolar será de 8:00 a.m.- 3:00/3:10 p.m. dependiendo de su asignación de hora de salida. Las asignaciones de la hora de salida serán enviadas por correo electrónico en agosto. Asegúrese de que tengamos su dirección de correo electrónico correcta o preferida.
Enviaremos un boletín semanal todos los miércoles y también enviaremos comunicaciones a través de nuestra aplicación Remind.
El cuidado antes de la escuela será de 7:00 a 7:30 a.m. por $1 /día por estudiante.
El cuidado después de la escuela será a través del YMCA Y-Club desde la salida hasta las 5:45 p.m.
Los estudiantes tendrán la oportunidad de conocer a su maestro y dejar los útiles escolares el miércoles 17 de agosto entre las 5: 00-7: 00 p.m. Más detalles a continuación.
Por favor reserve la fecha para nuestra Misa y Fiesta de Regreso a Clases el sábado 20 de agosto a las 4:00 p.m.