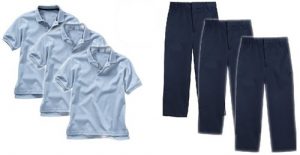 Holy Cross students wear uniforms to promote intellectual and spiritual growth in a safe non-competitive environment.  Our Pastor, Principal and School Board believe uniforms provide a positive academic atmosphere during the school day.  Uniforms consist of navy blue bottoms and a white or light blue shirt.  We appreciate parents/guardians support of the uniform dress code, which is enforced by the principal, faculty and staff.
The principal may revise the uniform dress code for special occasions such as "spirit days".
Whenever there is a dispute over the appropriateness of an item of dress, the decision of the principal is final.
Holy Cross offers a "Uniform Shop" where new and/or gently used uniforms can be purchased at a reduced cost.