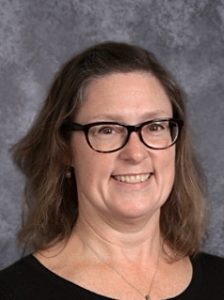 Julie Van Meter, Music Teacher

Mrs. Van Meter has been at Holy Cross for 11 years as the music teacher. She received her Bachelor's of Music degree from Saint Mary's College, Notre Dame, Indiana. Julie has been teaching music for over 26 years. Mrs. Van Meter is the mother of two former Crusaders and a die-hard Chicago Cubs fan. Piano is her instrument of choice. Mrs. Van Meter wants all her students to know they can all sing, all perform, and all play!
Mrs. Van Meter has a genuine love of music and teaching. Her lessons are fun and enjoyable. Walk up to her room and her wall is decorated with musical quotes from Les Miserables to The Lion King. She relates to all students, whether they are 4 years old or 14. She bring current media, movement, instruments and music history to her class. For years she has led our school choir, allowing our students to shine with their voices in masses and special events. During our Spring and Fine Arts Fair she never fails to wow us with her students' performance.
Julie is a "one in a million" teacher. She is upbeat, works well with all age groups and inspires students to use their voices to make beautiful music! Her talent is extraordinary and she brings
out in all her students!