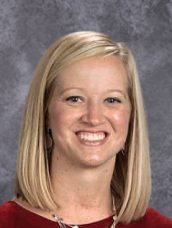 Ashley Parmelee, Teacher
I am from South Bend, Indiana and have lived here my entire life. I live with my husband and my two girls. I graduated from Ball State University in 2005 with a Bachelors degree in Early Childhood Education.  I have been at Holy Cross School for 9 years and have been teaching for 15 years.
I knew I wanted to be a teacher since I was in the first grade. My teacher let me be her "helper" in the classroom, and I have loved it ever since.  It brings me so much joy when I can experience teaching the children to read and explore books in a new way.
I am a teacher and a parent at Holy Cross. As a parent, my favorite part of Holy Cross is the compassion shown to the students by all the teachers and staff.  I know our school community is a very special place.  I love being a part of the diverse group that God has made.  At Holy Cross, we are an excellent example of all of the love that God has shown when creating us.
When I'm not in the classroom I love being outside, going to the beach and taking walks with my family. Eric Carle books are my favorite read!
---
Beth Pieszchala, Aide
I am originally from Merrillville, Indiana but lived in Indiana my whole life. I hold a Bachelor's Degree in Business Management from Purdue University and have been part of Holy Cross School for the past 4 years.
The best part of Holy Cross is the teamwork and feeling like we are all part of a family. I love to garden in the summer, dance and sing!
I married my high school sweetheart and have 2 boys who are currently Crusaders here at Holy Cross.
My favorite prayer is the Lord's Prayer.
In the Classroom
Phonics- Time in kindergarten starts the year with identifying the letters both upper case and lower case.  We continue with identifying letter sounds and blending those sounds together to make words.  Kindergarten also learns sight words to help in the beginning reading stages.
Language Arts- Consists of whole group read alouds where the students identify the title, author, illustrator, characters and setting in a story.  We use fiction and non-fiction text as well as a weekly poem.
Math – Starts the year by identifying 2D shapes and 3D shapes.  We use manipulatives such as play-dough and popsicle sticks to build 3D shapes.  The students practice one to one correspondence with numbers from 1 to 10 using cubes, tiles, and blocks.  Once the students have an understanding of number concepts, we move on to adding followed by subtraction. We learn facts up to 5 and then graduate to facts up to 10.
Religion -Starts class by sitting together on the carpet, lighting a candle because Jesus is the Light of the World, and quieting our hearts to get ready to pray to God.  We focus on being kind to others and using our own words to express our feelings.  Kindergarten attends mass twice a month (every other week).
Writing – We are all writers in Kindergarten!  Beginning writers start the year using drawings.  They may dictate their ideas but as the year progresses, the students start to label pictures and write their own sentences using sight words and CVC (consonant vowel consonant) words.  This is a wonderful time the students are able to express themselves in print.
Recess – Kindergartners have the opportunity for gross motor play two times a day.  They are free to interact with peers and build social skills with peers.
Centers – In the afternoon students can explore a variety of math and literacy centers.  Some math centers consist of using tiles to count on, using beads and pipe cleaners to count and finding number words and numerals on cookies in the cookie jar.  Literacy Centers are created around the topic that we are learning in class.  When the students are practicing short a words, they will be using letter tiles or magnetic letters to create words that match a picture such as cat or hat.