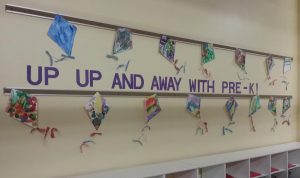 The Pre-Kindergarten class meets daily, Monday through Friday, and we offer half day as well as all day Pre-Kindergarten. The school day begins at 8:00 am. All students attend in the morning, with half-day students dismissing at 11:30 am. All day students continue for the afternoon hours of enrichment, and are dismissed at 2:45 pm.
Pre-Kindergarten students must be 4 years old by August 1, 2020 to be eligible for enrollment in the 2020-2021 school year.
Philosophy
PreKindergarten is a program designed as a transitional Kindergarten for those children not yet ready for Kindergarten because of age, skills, or maturity.
The primary goal of the program is to involve your child in a fun, exciting, and inspiring learning experience; to prepare your child with the skills and concepts necessary for Kindergarten; to provide an awareness of health which includes physical, emotional and spiritual aspects; and to develop a love for books and reading. This is accomplished with daily hands-on activities, field trips, and community guests.
Curriculum
The Pre-K classroom uses the High Scope Curriculum allowing children to be active learners within a supportive classroom community. Attention is given to children's strengths and abilities and allows them to follow through on their interests. In the process, children develop trust, curiosity, independence, initiative, and responsibility.
The Pre-K class uses Allelu!, which is an early childhood program that features a variety of activities that engage all of the children's senses as they gain the building blocks for a lifetime of Catholic Faith. We also utilize I Am Special, a religious program that encourages the faith development of young children.
Children also learn via the Kinder Social Skills Curriculum, focusing on main characters Tom and Tabby Cat as they go on adventures. They are introduced to a variety of social skills and given the opportunity to discuss and practice the skills they learned.