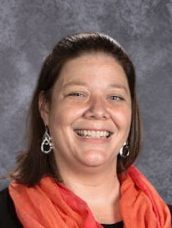 Deanna Finfrock, Teacher
I was born and raised here in South Bend, Indiana. I graduated from Purdue University with a Bachelor of Science in Early Childhood Education and a minor in Special Education. I have been with Holy Cross for 5 years and I've had 20+ years experience working with children and families as a Case Manager, Child Life Specialist, and Developmental Therapist.
I teach because I love watching my students make new discoveries, learn how to interact with peers, overcome obstacles, and grow in all areas of their development.   Teaching children the essential skills needed to be successful in the future is extremely rewarding and why I love my job!
The best part of Holy Cross is the sense of community.  Everyone looks out for each other and is dedicated to ensuring all children reach their potential.
I am a lifelong Crusader.  I was baptized and married at Holy Cross Church.  I attended Holy Cross School from Kindergarten-8th grade and my children also attended Holy Cross.
I live with my husband Ryan and our two children, Nolan and Ashley and when I'm not teaching I love to read and play volleyball, basketball and softball.
My absolute favorite prayer is The Serenity Prayer.
In the classroom
PreKindergarten is a program designed as a transitional Kindergarten for those children not yet ready for Kindergarten because of age, skills, or maturity.
The primary goal of the program is to involve your child in a fun, exciting, and inspiring learning experience; to prepare your child with the skills and concepts necessary for Kindergarten; to provide an awareness of health which includes physical, emotional and spiritual aspects; and to develop a love for books and reading. This is accomplished with daily hands-on activities, field trips, and community guests.

The Pre-K classroom uses the High Scope Curriculum allowing children to be active learners within a supportive classroom community. Attention is given to children's strengths and abilities and allows them to follow through on their interests. In the process, children develop trust, curiosity, independence, initiative, and responsibility.
The Pre-K class uses Allelu!, which is an early childhood program that features a variety of activities that engage all of the children's senses as they gain the building blocks for a lifetime of Catholic Faith. We also utilize I Am Special, a religious program that encourages the faith development of young children.
Children also learn via the Kinder Social Skills Curriculum, focusing on main characters Tom and Tabby Cat as they go on adventures. They are introduced to a variety of social skills and given the opportunity to discuss and practice the skills they learned.