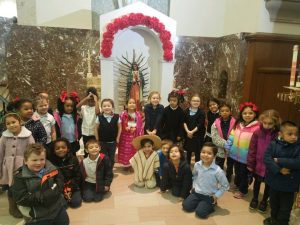 Our Immersion program provides the same academic content and addresses the same standards as the traditional program but provides literacy and content instruction in two languages (Spanish & English) over an extended period of time.
At the Pre-K level, we follow a 90/10 model, meaning 90% of instruction is given in Spanish while 10% is given in English. As students progress through higher grade levels, they will eventually participate in a 50/50 model in which half of their instruction will be given in Spanish and the other half in English.
The Pre-K Immersion classroom meets daily, Monday through Friday, and offers both full day (8:00 a.m.-2:45 p.m.) and half day (8:00 a.m.- 11:30 a.m.) options.
Students must be 4 years old by August 1, 2020 to be eligible for enrollment in the 2020-2021 school year.
Today's Catholic – Archbishop celebrates Holy Cross School language program