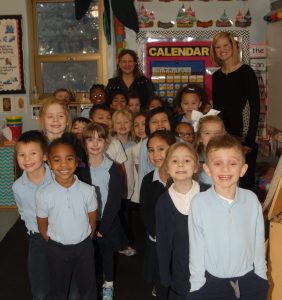 The Kindergarten class meets daily, Monday through Friday from 8:00 am to 2:45 pm.
To be eligible for enrollment in the 2020-2021 school year, the child must be five years old by August 1, 2020.
Entrance will also be based on the following:
– Administration of an Assessment of Developmental Readiness
– A recommendation of the preschool teacher or a conference with the Kindergarten teacher, parent/guardian, and principal if  the child did not attend preschool.
Kindergarten Philosophy
The Holy Cross Kindergarten program is both developmental and academic. During the morning hours, the curriculum is traditional – reading readiness, language, social studies, science and math. The teachers emphasize an active hands-on approach to learning. Workbooks and work sheets are kept to a minimum. Students work in groups and have many manipulatives and games to help them learn.  The teachers also include prayer and religion in the classroom.