Melissa Manier, Teacher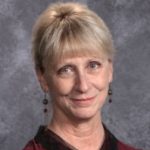 Melissa Manier has a Bachelor of Science degree in Education from Indiana University, and has been teaching children for over 20 years, including Religious Education at St. Monica's Grade School, 2nd and 3rd grades for the South Bend Community School Corporation, and the 5th Grade at St. John the Baptist School. Her heart and home, however, have been in the 2nd Grade at Holy Cross School for 14 years.
Melissa feels blessed to share the 2nd grade curriculum with her students, especially the preparation for, and reception of, the Sacraments of First Reconciliation and First Communion.
The mother of 3 former Crusaders, Melissa also serves as Quiz Master for the Holy Cross Quiz Bowl team when needed, and directs the Jr. High Play each spring.
She loves to spend time in her garden, take long walks, knit, curl up with a book from the ever-growing stacks around her home and classroom, and writes when she can.
Most of all, she loves to share this school, this Parish, and God's warm and embracing love with her students and their families!
---
In the Classroom
The 2nd graders are currently reading and writing about All Things Penguin! This unit of study has included fiction (including everybody's favorite penguin~Tacky!), plenty of poetry, and nonfiction galore. Each student will soon be researching a different penguin, and then writing a report about it, which they will later share with the rest of us. All 17 species of penguins will be written about, so we are sure to finish this unit knowing plenty about penguins!
We are also learning about Haiku poetry writing, and will be writing our "Holy Cross Haiku" in honor of Catholic Schools Week. Be sure to come by and read the many things the children love about Holy Cross School~in Haiku poetry form, of course!
Our Prayer Corner indicates our preparation for First Reconciliation. We have been reflecting on the Parable of The True Vine as we look to understand more deeply God's great love for us, and his desire to remain connected to us.